A Chris
Bathgate sculpture
from the end of 2011
Admit it – you want one.   You're trying to figure out where in your institute (or home) this will sit, and how to justify it in your budget.  Want to see more?  Visit Chris Bathgate's website for works in progress, images of the pieces of the pieces being made, videos and more.
If you've ever worked with high vacuum systems, tight tolerance machined apparati, and lots of detectors and probes, you may be  used to seeing things like this (below).  There's something magical, almost science fiction about seeing a cluster of high vacuum probes for the very first time.
Image of an ESCA system (Electron Spectroscopy for Surface Analysis) made by
Euroscan Instruments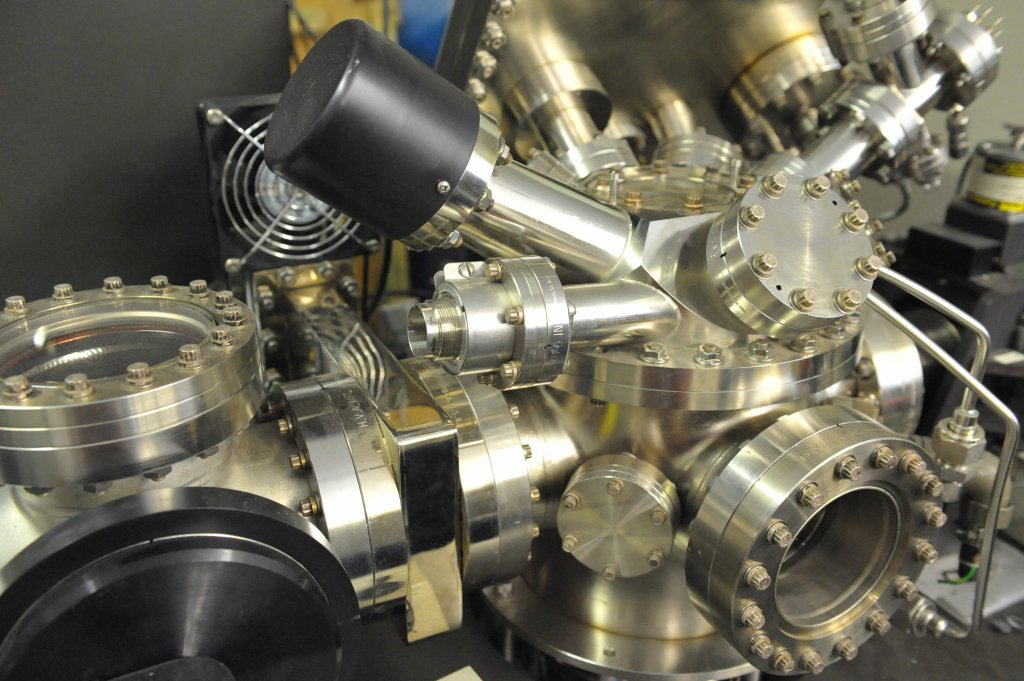 Have you ever looked at an array of highly machined precision – functional – equipment and thought the polished curves were almost art?  Worthy of the focused intent of a superlative sculptor, perhaps?  Sculptor Chris Bathgate has been using his in-depth knowledge of machining and unique appreciation for metal forms to create unique yet vaguely … familiar… sculptures.  His streamlined forms echo the tight tolerance precision machined equipment that so many scientists have come to know and love.
His pieces have numbers rather than names.  Below are ST 732232835563624434 and  DC35555